Prosperity with Purpose
December 25th, 2017 
Our neem trees are proving to be a sustainable and prosperous project. We are heading towards our first harvest next year, which will allow our neem trees to be used for environmentally-friendly purposes in a great variety of industries. One of these industries is the agricultural industry, where neem has the potential to become one of the best biofertilizers on the market and capture an important share of this growing market, which is forecasted to reach a value of $194 billion in 2018. 
---
Information Management at the Fazendas
December 19th, 2017 
To guarantee data-driven farm management, our head agronomist is utilizing our information management systems to teach our workforce about data collection, geostatistics and the efficiency gains in leveraging technology on our projects. These systems have helped to increase proactive management of issues on the plantations, giving us the ability to assess and interpret information in near real-time. 
.
---
New Staff Maintaining Responsibility for Key Business Functions
December 13th, 2017 
Our team in Brazil comprises talented men and women, experts in agriculture, sustainability, accountability, and finance. They are the core of our management team and responsible for the management and operation of our plantations and our administrative processes. We aim to foster a diverse and inclusive environment for all of our employees in accordance with labor and human rights principles of the UN Global Compact. 
.
---
Neem Prosperity in Brazil
December 7th, 2017 
These neem trees are located just at the outskirts of our agricultural projects in Trairí. The fact that these neem trees are flourishing in North East Brazil, even without agronomic management, demonstrates the hardy nature of the tree and gives an example of what to expect of the future growth of our trees as they move towards their adult years. Currently, our trees are about 3 meters high. They can rise by 80cm a year, reaching up to 30 meters when fully grown.  
---
Agriculture and Tractor Technology
December 1st, 2017 
Farming is a job full of variables and unexpected tasks that only humans can deal with. However, to improve our plantation and harvesting processes and automate aspects of these tasks, we have added additional technology to our John Deere tractors. This technology allows us to share maps and vehicle positions in order to guarantee the best performance when managing operations in the field. 
---
PetDrive

Initiative: Our Plastic Challenge
November 20th, 2017 
We are implementing efforts to eliminate plastic pollution at our plantations and surrounding communities. One such program is the PetDrive Initiative, which challenged our workers to collect PET bottles to reduce, reuse and recycle. Mr. Changas and his family were the winners of this competition, having collected around 1,000 PET bottles. Their effort was rewarded with a food hamper prize. 
---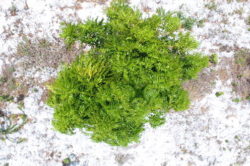 An

Aerial View

of Neem 

 
November 14th, 2017 
We are constantly surveying the growth of our neem trees using our DJI Matrice M100 drone. This specialized agricultural drone allows our agronomists to utilize technology to identify problems at an early stage and prevent the development of pests and other ground issues while collecting aerial data and imagery. Drone technology is increasingly becoming an important asset for us as we enhance our plantation management. 
---
The Coconut

Tree

:

A

Multi-Use

R

esource
November 8th, 2017 
The last few months of the year are known as the dry season in North East Brazil. We prepare for this by using our own natural resources on the ground. By utilizing dry coconut palms and shells to prepare our soils, we are able to improve water retention and maintain the growth of our crops during this period of the year. Reusing our natural resources improves the development of our plantations and protects the environment while reducing the consumption of artificial and synthetic inputs. 
---
Agrivi, A Powerful Farm Management Solution
November 2nd, 2017 
We are using Agrivi to plan, monitor and analyze our day to day activities at the plantations. Using this powerful agricultural farm management system allows us to improve and optimize our cultivation process through operational efficiencies and resource management. The system plays a critical role in effectively distributing and managing our plantations spanning over 1,500 hectares. 
---
Transforming Saplings and Landscapes
October 27th, 2017
The improvement of our seed selection criteria will assure the highest level of quality for every neem sapling we plant. By choosing biodegradable growing bags for our nursery, we reinforce our commitment to sustainable business practices.
.
---
Managing Waste Responsibly
October 16th, 2017
We are currently working with ECO+, a local company specialized in collection and recycling of waste in order to preserve the local environment and avoid land degradation. Since the implementation of this new practice, we have recollected 20 m³ of recyclable wastes per month.
.
---
The Benefits of a Strong Root System
October 11th, 2017
Neem trees are renowned for their strong root system with a deep taproot and extensive lateral roots. This intricate system of roots is the reason why neem can tolerate low annual levels of rainfalls, which access water resources up to 9-12 meters below the ground surface.
.
---
Elite Neem Seed Selection
October 5th, 2017
We have raised our quality standards to ensure our trees are grown solely from elite seeds. With a more rigorous selection process, our nursery is being supplied with the best seeds available locally, which will be utilized in the next planting season once the rainy season starts in Brazil early next year.
.
---
The Growth of Neem
September 30th, 2017
One of our tallest neem trees on the projects towering over our agronomists at three meters (10 feet) in height. Known for their adaptability, this neem tree has started to develop its adult rooting system and could grow up to 30 meters (100 feet) in height once at full maturity.
.
---
Embracing Technological Innovation in Brazil
September 19th, 2017
By implemented precision infrastructure and technologies across our plantations, we reduce the legwork of our team in collecting vital information to optimize our crop care strategies. Our drones have the ability to stay in the air for up to 40 minutes and travel up to 5 kilometers away from the initial take-off point.
.
---
Unique Honey
September 14th, 2017
We are thrilled to announce our very first honey harvest! This delicious nectar contains all of the natural benefits of neem and proves that neem and beneficial animals such as bees can coexist peacefully.
.
---
Neem and Bees Together, Forever
September 7th, 2017
Our specialist beekeepers are responsible for taking care of the nearly 40 hives we have across the plantation. These bee populations will increase pollination in the field, strengthening the yield potential of our crops and helping the surrounding ecosystem remain diverse and sustainable.
.
---
Mandala Garden
September 1st, 2017
As part of the Sustainable Future Initiative, our on-site Mandala garden continues to provide local schools with organic produce, made sustainably, for the children to enjoy over lunch.
.
---
The Launch of our On-Site Office
August 23th, 2017
Our on-site office is the new hub for all operations on the plantations. Complete with incredible views of Fazenda Lagoa Grande, this is the best place to manage all of the administrative responsibilities to do with crop management.
.
---
Land Clearing Services
August 10th, 2017
Clearing land for development is a continuous task that our field workers have to execute weekly. This responsibility is essential for the long-term development of our agricultural projects.
..
---
Neem Trees Touching the Sky
July 28th, 2017
We are extremely pleased with the impressive growth of neem trees planted on Fazenda Rio Grande. Binding extremely well to the soil, these trees already tower over our agronomists at up to three meters in height. This is due to the efficient and environmentally responsible agricultural practices we adopt on the plantations every single day.
.
---
Making Informed Decisions with Precision
July 17th, 2017
Our newly acquired DJI Matrice M100 drone will be used to collect substantial amounts of real-time crop information from the air with its visual and multispectral sensors. Using PrecisionHawk's analytics software, we will be able to run peer-reviewed algorithms, modeling and reporting against historical survey data to improve yields, decrease expenses and increase revenue.
.
---
The Expansion of our Eco-Dams
July 7th, 2017
With the welcome return of heavy rainfall, we have taken the decision to increase the capacity of our newly developed eco-dam by nearly 30%. This huge reservoir will now be able to hold over one million square meters of water, which will be used to help sustain our crops for generations come rain or shine.
---
An Impressive Rainy Season in Ceará, Brazil
June 21st, 2017
After years of testing water conditions in Brazil, above average rainfall has finally returned to Ceará. During this year's rainy season, which is just coming to a close, the plantation's water reserves were refreshed to optimum levels. With high water tables, the neem and coconut trees will be able to thrive and remain healthily supplied even in the face of adverse conditions. Water levels will continue to be monitored and supplemented through our state of the art irrigation system.
---
Knowing Your True Impact in the World
June 16th, 2017
Every month, Unique workers are brought together for valuable classes where they learn about innovative practices in agriculture, the importance of sustainability as well as neem's benefits to the environment and their community. Through these sessions, the Unique community learns about the true and long-lasting benefits their work brings to the world every single day.
.
---
Exemplary Students Receive Behind the Scenes Tour
June 11th, 2017
Throughout the six month Sustainable Future Initiative, the first class of students were exposed to sustainable agriculture techniques and real-life applications through the teachings of expert agronomists in the Mandala garden located on the Fazenda. As a culmination of the first class of the Initiative, the highest achieving and motivated students were invited to the Unique plantation for a special tour of the Fazenda to observe these sustainable practices in action, touring the vast expanse of land, irrigation systems and innovative solar panel design. They were even shown how to plant their very own neem tree in the field!
---

First Class Graduation at the Mandala Garden
June 7th, 2017
After six months in the classrooms and the field, our first generation of local students graduated from our Sustainable Future Initiative. The final session was held on International Environment Day, and we were able to show the class how nurturing the very ground we walk on can help provide life and sustenance for generations. Walking among the fruits and vegetables they tended to for the past few months, and saying farewell to the expert agronomists who helped them every step of the way, the schoolchildren will now pass on the responsibility of caring for the garden to the next class in the new semester.
---
The Sustainable Future Initiative in Action
May 26th, 2017
With the Mandala Garden taking shape near the entrance to our agricultural projects in Ceará, Brazil, children from local schools can often be seen learning about the wonderful benefits of permaculture. Expert agronomists teach the classes how responsible land preparation, irrigation systems, and cultivation techniques can strengthen our global food system and secure a sustainable future.
---
Strengthening the Sense of Community in Ceará, Brazil  
May 17th, 2017
Our goal from inception is to be celebrated as a positive influence for the local economy and community. By proactively engaging with each member of staff and implementing additional benefits such as training and educational events, word has spread and we now receive a regular supply of productive and strong members of staff as the various implementation stages call for an ever-growing head count on the ground.
---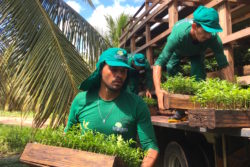 Evolving a Sustainable Future
May 9th, 2017
We planted our very first coconut palm on Fazenda Lagoa Grande in 2013. We now manage 42,740 coconut trees that span 237 hectares of agricultural land and we are fast approaching full capacity with nearly 500,000 neem trees planted across a further 1,200 hectares. In order to meet this objective, our team frequently receives new batches of sapling for development at our on-site nursery.
---
A First Glimpse of our Sustainable Future 
 April 26th, 2017
The First Phase of our Zero Carbon Footprint Plan has now been fully implemented, with 84 Canadian Solar 315 Wp Panels installed and fully operational. Using solar a truly clean and renewable energy source will minimize our dependence on the state for our energy needs and at the same time reduce the over cost of power generation and distribution across the plantation. Fun fact: The energy capacity that solar provides the Earth every single hour could meet global energy needs for one year.
---
Coconuts and Neem Living in Harmony 
April 24th, 2017
Coconut coir from the fibrous inner shell of the coconut has tremendous benefits to the soil. As a by-product of coconut harvesting, coir is a renewable resource that is utilized to improve soil quality. With an ability to reduce the occurrence of disease, lower maintenance requirements, increase water retention and oxygenate roots, the coir optimizes plan growth by holding onto nutrients and releasing them over a longer period of time. We are therefore implementing coir as a soil additive around the young neem saplings recently planted across Fazenda Palmeira Grande and Fazenda Rio Grande.
---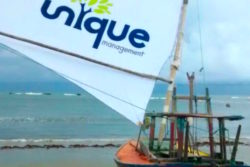 Unique Sailing the Brazilian Coastline  
April 15th,2017
Our very own Unique sail can be seen across the Fortaleza coastline in Ceará, Brazil, providing free promotion for our business as one of the main drivers of responsible and sustainable agriculture in the region.
---
Empowering the Next Generation
April 11th, 2017
We have developed a Mandala Garden on-site at our plantations for the first phase of our Sustainable Future Initiative. We will be using this space to teach natural and sustenance-based farming techniques to local schoolchildren. By growing fruits and vegetables as part of an education program, we will help ensure that safe and innovative practices last in the community for generations.
---
The First Phase of our Zero Carbon Footprint Plan
April 7th, 2017
The first phase of our Zero Carbon Footprint Plan is nearing completion with 82 Canadian Solar 315 Wp Panels installed on the roof of our new storage facility. This is a 26.5-kw peak system generating 42.3-mwh per year. That equates to 24% of annual energy consumption.
---
The Fruits of our Labor on Fazenda Lagoa Grande
April 5th, 2017
Development has mainly depended on each tree's individual genetic resilience to dry conditions, with some trees maturing at a faster rate than others. Given the above average rainy season last year, an extremely promising start to this season and the resolution of our energy network issues, we expect the first full harvest to take place in 2018.
.
---
Laying the Foundations of our Solar Infrastructure
April 3rd, 2017
The construction of our storage facility takes us on step closer to implementing our Zero Carbon Footprint plan. Once completed, this roof will support 82 Canadian Solar 315 Wp Panels. By increasing our solar energy capacity we will in turn increase our energy Independence through sustainable, renewable and natural power generation.
---
» SHOW MARCH 2017 DEVELOPMENT
Beneficial Insects Across Our Plantations
March 21st, 2017
One of the benefits of planting neem trees is that they are extremely beneficial to the surrounding ecosystem. With some of the trees almost reaching maturity, the support of the ecosystem is becoming more obvious. Though neem-based sprays deter target pests, non-target animals like butterflies and pollinators are unaffected. Here, we can see one of the hundreds of butterflies that have visited the plantation in the recent weeks, enjoying the neem tree and the relief it provides from the sun.
---
Neem Fruit
March 15th, 2017
Even though Brazil has suffered from unprecedented droughts over the past years, the neem trees continue to thrive throughout the Fazendas. There is no doubt that their fruit will soon be appearing across the land.
.
---
Neem Reaching the Sky
March 3rd, 2017
While these neem trees on Fazenda Palmeira Grande require a few more years of development to reach full maturity, their first full harvest will produce up to 294,060 liters of oil and 882,180 kilograms of cake. That will tap into a market expected to grow from $653 million in 2015 to $1.86 billion by 2022 at a compound annual growth rate of 16.3%!
---
Proving Neem and Bees Live in Harmony
March 1st, 2017
We are in the process of implementing bee colonies on-site at our projects. Vital to the environment, these hives will increase pollination across our plantations while demonstrating the viability of neem as a natural pesticide and fertilizer that functions in harmony with beneficial insects such as bees.
---
» LESS POSTS
» SHOW FEBRUARY 2017 DEVELOPMENT
Support Stations Every 100 Hectares
February 27th, 2017
We are beginning the implementation and development of support stations located at every 100 hectares of our plantations. While currently in the initial stages of planning, these stations will contains shower, bathroom and storage facilities as well as shaded areas for our employees to enjoy food and rest during a hard day's work.
---
Our Neem Nursery is Full of Life
February 17th, 2017
We have adopted a more systematic and efficient process for planting based on individual teams dedicated to each part of the plantation management process. One of these teams is tasked with the receiving and immediate care of seedings on our on-site nursery. These seeds and saplings are acquired locally, chosen from the highest performing trees available.
---
Zero Waste at our Neem Nursery
February 15th, 2017
With tens of thousands of neem sapling residing at our neem nursery at any one time, we decided to replace the polyethylene grow bags with entirely biodegradable alternatives. This will ensure that no unnecessary waste occurs at the nursery and forms a small part of our sustainability plans..
.
---
A Closer Look at our Manual Irrigation System
February 10th, 2017
With over 250,00 neem trees planted over the past few months across Fazenda Palmeira Grande and Fazenda Rio Grande, we ramped up our irrigation systems to extend across the far reaches of our plantations. By opting for a manual system in this section we can ensure that each recently planted sapling receives the necessary water for optimal growth.
.
---
Nature Knows Best in Soil Care
February 8th, 2017
We have been mulching the coconut husks collected on the ground at Fazenda Lagoa Grande so we can introduce the biomass into the soil surrounding our newly planted neem trees across Fazenda Palmeira Grande and Fazenda Rio Grande. This is an entirely natural way to increase the nutritional value of the soil, while also increasing its ability to retain water.
---
» LESS POSTS
» SHOW JANUARY 2017 DEVELOPMENT

Meet our Neem Crop Care Team
January 27th, 2017
2016 was a pivotal year for project development here in Brazil. Thanks to our hardworking and dedicated workforce on the ground, we were able to clear 760 hectares of land across Fazenda Palmeira Grande and Fazenda Rio Grande.
.
---
Increasing Efficiency on the Ground
January 25th, 2017
We have reached the highest rate of clearing and planting on the ground in Brazil, while at the same time ensuring a positive environmental impact. This level of productivity has been achieved due to the near doubling of our workforce, the acquisition of three new John Deere tractors as well as the implementation of an entirely agro ecological and sustainable farm management on the ground.
---
Planting in the Field
January 23rd, 2017
Over the course of 2016 we have planted 580 hectares of neem across Fazenda Palmeira Grande and Fazenda Rio Grande. That's 241,280 neem trees planted in under twelve months! With only 180 hectares left to plant in this phase, we have nearly reached full capacity in these sectors.
---
A Great Sign of What is to Come
January 5th, 2017
Neem thrives In Ceará, Brazil. An abundance of the tree's fruit and leaves can be seen even in the journey towards our agricultural projects. These trees have become a great source of inspiration as we persevere in our efforts to create the world's largest and most productive neem farms. Why? We know that this incredible resource will be fundamental in evolving a sustainable future for us all.
---
Nature's Own Micro-climate
January 3rd, 2017
Once transferred from our on-site nursery and before planting in the field, neem saplings are placed underneath a selection of our coconut trees. The long, wide and sturdy fronds of the palms shelter our saplings during their initial days outside of the nursery, offering extra protection in this transitional phase. Neem is not the only beneficiary in this arrangement due to the tree's natural ability to deter pests.
---
A New Year and New Batch of Saplings
January 2nd, 2017
Having spent all of the festive season receiving a regular blend of essential nutrients at our on-site neem nursery, these healthy saplings will be the very first to be planted in 2017. Happy New Year!
---
» LESS POSTS
See 2016's Plantation Development
